Home of the Most Titled White GSD in History
We believe that our Atlas is the most titled white German Shepherd in history. Of course, there is no official tracking of this, but with 133 titles, awards and certificates, we believe he has the most. Our dogs are most stimulated with they dabble in lots of different things and Atlas was a great example of that. Versatility is what we focus on here at Atlas German Shepherds. Atlas is no longer with us but this versatility continues on in his descendents.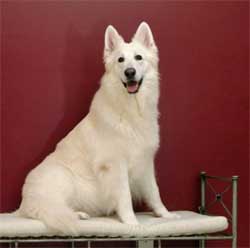 WGSDCA BIF/BIM Grand Victor 6x Select Ch. / WGSDCII 2x Grand Victor and 7x Select Ch. / ARBA BIS Master Ch. / FO URO1 UKC 16x BIMBS 7x RBIMBS Grand Ch. / IABCA Multi. Ch. Eclipse's Strength of Atlas RN, RL1, RL1X, ASCA RN, TN-N, CSL1-HS, WAX, WVDX, WROM, OV, TC, TT, CGCA, TDI, GSDCA 13 Club, OFA H/Card/MDR1/DM/Thy/Dent, CHIC

Our Atlas was our first dog and earned 134 titles, awards and certificates. You can see a listing on his page.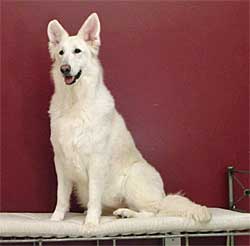 C-ATCH CT-ATCH4 CS-ATCH URO3 UACH UKC Ch. / WGSDCA BIF and BIM / ARBA Junior Ch. / IABCA Multi Ch. WhiteStone's Miracle of Atlas RAE, RL1, S-TG-N, S-TN-N, S-NAC, S-NCC, S-NJC, O-HP-N, O-WV-N, NADAC Novice Versatility and Novice Triple Superior, O-TN-O, OAC, TG-O, CL1, CL2, CL3, CL4, TChFH, TChSN, TChJU, TChWC, TChST, TChCL, TChJP, NTD, MAC, OV, WVDA, CGC, GSDCA 13 Club, OFA E/MDR1/Dent

Mira is the daughter of our Atlas and has just a few less titles than him with 93 titles, awards, and certificates. You can see a listing on her page.

Many of our current dogs are racking up the titles and giving Atlas and Mira a run for their money!

< Return to home page