URO1 NN UKC GRCH / IABCA Int'l Ch.
Atlas' A Bit Beyond Daybreake
RI, SWN, CCSS-L1, NW1, IAC, IJC, ICC, WV-I, TN-I, TG-I, NAC, ACT1, ETD, TKA, CA, NSD, CCF1, RATI, FDC, CGC, SPOT, TC, OFA H/E/MDR1/Dent/Card/Thy
Multiple UKC Total Dog Winner
AKC Achiever Dog
"Angel"
OFA Fair Hips (GS-97807F24F-VPI)
OFA Cardiac (GS-CA1751/24F/P-VPI)
OFA Dentition Full (GS-DE365/24F-VPI)
OFA Normal Elbows (GS-EL36571F24-VPI)
OFA Thyroid Normal (GS-TH827/24F-VPI)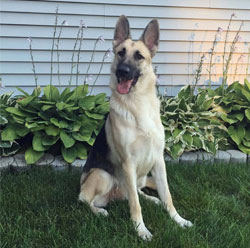 Angel is a young female from our Major x Bentley litter. She was born August 5, 2015 and we are proud to co-own her with David and Dawn Fisher. Angel is shown in conformation and performance events.

Angel finished her UKC Championship at just 9 months old and along the way took a Best of Breed and Herding Group I! She is now a UKC Grand Championship with many more Group Is. She also has her first Rally title and is started in Barn Hunt. We are excited to see what the future holds for Angel!