TDCH URO1 UJJ GNJCH IA UKC Grand Ch.
White Star's Nirvana at Atlas
RN, RLI, RL1, CW-Ob1qv, IAC, IJC, ICC, TG-I, O-TN-I, WV-I, HP-I, BR-I, NAC, NCC, O-TN-N, O-BR-N, TG-N, WV-N, HP-N, OJC, BR-O, CTL1-H, CL1, CL2-H, ACT2, ACTJ2, UL-I, LI-I, FDC, TKP, PSD, CCF1, TC1, NTD-M, CGC, SPOT, OFA H/E/Card/Dent
Multiple UKC Total Dog Winner
"Zen"
OFA Hips GS-105651F24F-VPI
OFA Elbows GS-EL43706F24-VPI
OFA Basic Cardiac GS-BCA6/24F/P-VPI
OFA Dentition (full) GS-DE656/24F-VPI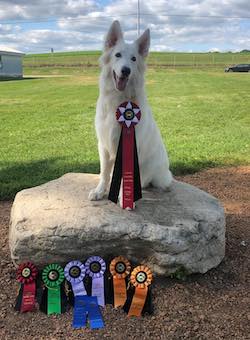 Zen is a young female from White Star Shepherds in Lancaster, NY. She has an outstanding pedigree and brings a wonderful outcross to our lines. She was born October 3, 2018 and we're very excited to have her in our family.

Zen shows in conformation and performance events. She earned her first performance title - UKC Rally 1 - at just 11 months old along with a Total Dog award. She is titled in rally, obedience, trick dog, agility, dock jumping, stunt dog, and more. She is a triple champion having her UKC Grand Championship in conformation, her DMWYD Trick Dog Championship, and her UKC Novice Dock Jumping Championship. We are so proud of Zen and plan for her to be a part of our breeding program in the future.