USJ UJJ UNJ
Back to Dark At Atlas Vom Diamond Peak
DJ, LS-N, O-TN-I, IJC, SD-I, UL-I, LI-I, TL-I, ITD, 2K9, FDC, TC, CGC
"Osiris"
MDR1 normal by parentage, DM clear by parentage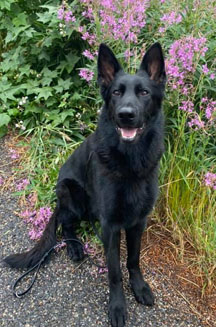 Osiris is a young male from Diamond Peak German Shepherds and was born on June 1, 2020. His pedigree combines well known working East German/DDR, West German, and Czech bloodlines. We were looking for a puppy who would enjoy all the activities we participate in and we have high hopes that Osiris will be a lot of fun to compete with!

Osiris is training for performance events and already competing in dock, urban locating, and shed hunting.