UJJ UNJCH
Whispering Echos I Did It My Way
TN-I, RN, UL-I, TL-I, ITD
2020 Best in the Midwest Champion (L Dog)
"Frank"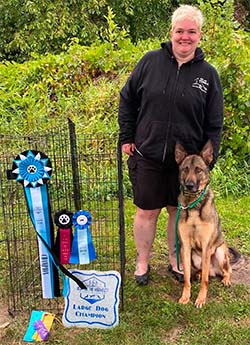 Frank is a foster dog with Border Collie Rescue of Minnesota. He is an almost three year old Belgian Malinois x German Shepherd.

Frank was born in Hungary and came to the US as a puppy. He was trained to be a law enforcement K9 and worked for a very large city in central Minnesota. Frank is trained in apprehension, tracking and article search. Frank was ultimately washed because he can be a little environmentally sensitive. He would find the bad guy but not always bite him.

Frank is not living with me but I am very grateful to BCRMN for the opportunity to work with Frank. I have helped train him in dock jumping and together we have earned his UKC United Novice Jumper (UNJ), Novice Jumping Champion (UNJCH) and his United Junior Jumper (UJJ). We also competed as a team in Best in the Midwest 2020 which included dock, agility, and disc and won the large dog division.

FRANK HAS BEEN ADOPTED! Congrats to his new owner Alex who already earned his AKC Canine Good Citizen with him!