CS-ATCH7 UACH URO1 UKC Grand Ch.
Bahr-S Journey Through Dark
CL1, CL2, CL3, CL4-S, SpChCL, SpChSN, SpChFH, SpChWC, SpChJP, SpChJU, SpChST, L5S-PLT, TN-O, NJC, OAC, TG-N, WV-N, JSA-N, GSA-N, RL1X, RI, ITD, TKI, MSDCH, CGC, TDI, SPOT-ON, TC, OV, GSDCA 13 Club, OFA H/DM/MDR1/Dent, CHIC
AKC Achiever Dog
"Anubis"
OFA Fair Hips GS-79254F24M-VPI
OFA MDR1 Tested (normal/normal) GS-MD1-9/9M-VPI-N/N
OFA DM Tested (normal) GS-DM223/29M-VPI
DNA Data Bank GS-DNA-217/S
OFA Dentition (full) GS-DE26/68M-VPI
DNA Data Bank GS-DNA-217/S
Canine Health Information Center (CHIC) Number 67421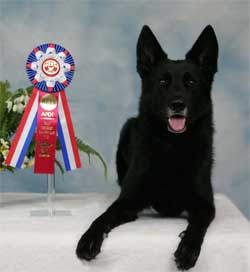 Anubis was a black male German Shepherd. He was born on July 24, 2006 at Bahr-S Shepherds in Yakima, WA and arrived at Atlas German Shepherds on September 28, 2006 at 9 weeks old. Although Anubis was black, he did carry the gene for white. He sired one litter that produced whites, blacks and black/tan puppies.

Anubis had a successful conformation career. He earned his UKC championship at just over a year old and his UKC Grand Championship at just over two. He earned his Master Stock Dog Championship in the WGSDCA - the first male dog to ever earn this title. Anubis retired from conformation and was neutered. He showed occasionally in the altered classes after he was neutered.

Anubis trained in obedience and agility for most of his life and had a very successful performance career. At just four days past his first birthday, he passed both his AKC Canine Good Citizen test and his Therapy Dog International certification. In January 2010 he finished his first performance title - UKC Rally Obedience 1 - in three straight trials. He started trialing in agility and earned three titles in his first three trials in CPE.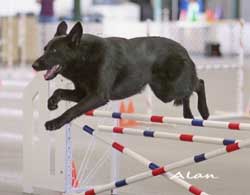 Although he had several rally titles including his WCRL Rally Level 1 Championship, Anubis' main performance event was agility. He competed in CPE and in March 2014 earned his Canine Performance Events Agility Championship in the Specialist division. He earned six more championships in CPE including several at 11 and 12 years old. He also competed in NADAC and in UKC and earned his UKC agility championship. He retired from agility at almost 12 1/2 years old.

Anubis had an amazing personality and a real zest for life. He was a fun dog to train and we are very happy we were able to live and compete with him.