WGSDCA BIF/BIM Grand Victor 6x Select Ch. / WGSDCII 2x Grand Victor and 7x Select Ch. / ARBA BIS Master Ch. / FO URO1 UKC 16x BIMBS 7x RBIMBS Grand Ch. / IABCA Multi. Ch.
Eclipse's Strength of Atlas
RN, RL1, RL1X, ASCA RN, TN-N, CSL1-HS, WAX, WVDX, WROM, OV, TC, TT, CGCA, TDI, GSDCA 13 Club, OFA H/Card/MDR1/DM/Thy/Dent, CHIC
Multiple UKC Total Dog Winner
"Atlas"
OFA Good Hips GS-68909G24M-VP
OFA Cardiac GS-CA520/87M/P-VPI
OFA MDR1 Tested (mutant/normal) GS-MD1-6/61M-VPI-N/M
OFA DM Tested (normal) GS-DM227/82M-VPI
OFA Thyroid (normal) GS-TH428/94M-VPI
DNA Data Bank GS-DNA-214/S
OFA Dentition (full) GS-DE23/120M-VPI
Canine Health Information Center (CHIC) number 62861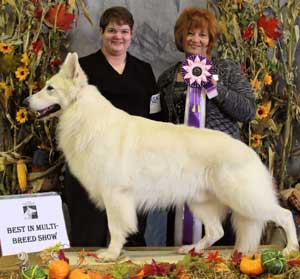 Atlas was our foundation white German Shepherd Dog. He was born February 28, 2002 at Eclipse Kennels and came to live with us on April 20, 2002 at seven weeks old. We lost him at the old age of 13 years, 8 months and 19 days on November 16, 2015. He was everything we could want in a companion and a family member. Atlas was an outstanding example of a German Shepherd Dog and we are proud of everything he accomplished.

It's hard to describe the impact that Atlas had on the white German Shepherd. He did things never done before. Most notably:
He was the sire of the only American Kennel Club Champion and Canadian Kennel Club Champion German Shepherd with a white parent
He was the only white German Shepherd ever to be the #1 German Shepherd dog (all colors) in the United Kennel Club (for 2005)
He was ranked in the top ten of German Shepherds in the UKC for ten consecutive years - longer than any other GSD (all colors)
He has the most titles of any white German Shepherd in history
He was the first white German Shepherd to earn a CHIC (Canine Health Information Center) number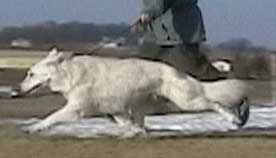 Conformation is where Atlas really shined. He earned ten championships, two National Specialty Best of Breed and Grand Victors (WGSDCII), a National Specialty Best Opposite Sex and Grand Victor (WGSDCA), thirteen Selects (six in WGSDCA and seven in WGSDCII), a Best in Futurity win, a Best in Maturity win, SIXTEEN UKC Best in Multi-Breed Show wins and an ARBA Best in Show win for his outstanding looks and movement.

If that weren't enough, he is the only white German Shepherd in history to be the #1 German Shepherd in the top ten dogs of United Kennel Club, which he did in 2005. He proved this wasn't a fluke by being the #2 GSD in the UKC in 2006, 2007, 2008, 2010 and 2012 and was also ranked in the top ten in 2003, 2004, 2009 and 2011. He also was the #1 dog in the White German Shepherd Dog Club of America for 2005-2008 and the #1 dog in the White German Shepherd Dog Club International for 2008, 2011 and 2012. Atlas proved again and again that he was a gorgeous German Shepherd Dog with outstanding structure and breathtaking movement and loved to show.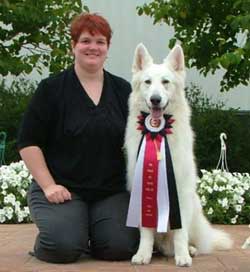 In addition to conformation, Atlas trained and competed in obedience. He has several rally titles and one leg towards his AKC Companion Dog title. Atlas also competed in agility and earned his first NADAC title in November 2007 and has his Family Obedience title from the Dog Sports program of the United Kennel Club. In 2012, Atlas earned his first two CPE agility titles at the age of 9 years, 10 months. Atlas also had a very strong herding instinct. He earned one leg of his first herding title with no training and took herding lessons and he enjoyed the sheep very much.

Like our all dogs, Atlas was versatile and enjoyed lots of different activities. He earned eleven Total Dog awards from UKC for qualifying in performance and winning in conformation on the same day. These awards are from two different performance events.

Atlas produced thirteen litters of outstanding puppies that take after their dad in their structure, movement and instinct. His daughter Soli was an American Kennel Club and Canadian Kennel Club champion as well as a UKC Grand Champion. He has many other offspring with conformation championships and they have won WGSDCA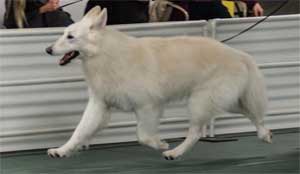 Best in Futurity, Best in Maturity and Grand Victor and Grand Victrix in both the WGSDCA and WGSDCII. Atlas was awarded the WGSDCA Register of Merit award for the acomplishments of his progeny in conformation. His offspring also excel in performance with many titles in obedience, rally, agility and even a BH.

There is no other German Shepherd dog like Atlas. He left a hole in our lives that will never be filled.