C-ATCH CT-ATCH4 CS-ATCH URO3 UACH UKC Ch. / WGSDCA BIF and BIM / ARBA Junior Ch. / IABCA Multi Ch.
WhiteStone's Miracle of Atlas
RAE, RL1, S-TG-N, S-TN-N, S-NAC, S-NCC, S-NJC, O-HP-N, O-WV-N, NADAC Novice Versatility and Novice Triple Superior, O-TN-O, OAC, TG-O, CL1, CL2, CL3, CL4, TChFH, TChSN, TChJU, TChWC, TChST, TChCL, TChJP, NTD, MAC, OV, WVDA, CGC, GSDCA 13 Club, OFA E/MDR1/Dent
"Mira"
OFA Clean Elbows GS-EL019446F35PI
OFA MDR1 Tested (mutant/normal) GS-MD17/43F-PI-N/M
DNA Data Bank GS-DNA-215/S
OFA Dentition (full) GS-DE24/103F-VPI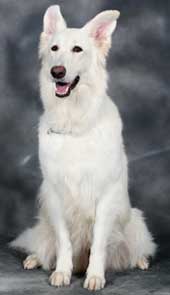 Mira was our first female white German Shepherd Dog. She was born August 9, 2003 and came to live with us on September 28, 2003 at 7 weeks old. We lost her at the old age of 13 years, 3 months and 13 days on November 22, 2016. She was sired by Atlas, our foundation stud dog.

Mira was a very special girl. Although our initial goal was for her to be a conformation and breeding dog, that did not work out for us. Mira retired from conformation competition just shy of two years old and was not be used for breeding.

Although she retired early, she had an outstanding conformation career. She was the second dog in White German Shepherd Dog Club of America history to be both Best in Futurity (2004) and Best in Maturity (2005). The first dog to earn this honor was her father Atlas, so we are very proud she followed in his footsteps.

Mira was a United Kennel Club Champion as a German Shepherd and retired with four of five wins needed for her UKC Grand Championship. She was the #8 white GSD in the WGSDCA for 2004 and earned a Best of Breed and Group I in 2004 in the UKC. She also earned two IABCA championships.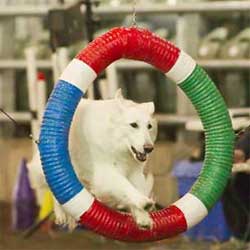 Luckily for us, Although she had success in the conformation ring, Mira was far more than just a pretty face. Her performance career far surpassed her conformation succes. She started in Rally earning her first performance title, an AKC Rally Novice Title, in May 2005. Over the years, she worked all the way to the prestigious AKC Rally Advanced Excellent Title and also earned titles in UKC and APDT. She retired herself from the rally ring in 2011 telling us she was done with that sport.

Agility is where Mira really excelled and was her true love. She earned her first agility title - UKC Agility I - in April of 2006 and then earned over 55 agility titles in CPE, NADAC and UKC. Most impressive, Mira earned six agility championships in CPE and one in UKC making her a seven time agility champion.

Mira was our first dual champion - having earned several conformation championships and seven agility championships - and she also had points towards a rally championship. She was voted the White German Shepherd Dog Club of America Performance Dog of the Year in 2006 and 2007 and we agree that Mira was a wonderful performance dog!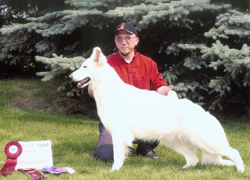 Mira had the sweetest personality and was the family clown. She was even tempered and the best in our family at teaching puppies the correct way to behave. She had excellent manners and she was a little lady. Although she was not a breeding dog, she is an example of the versatility we look for in Atlas German Shepherds dogs.