CS-ATE C-ATCH CT-ATCH3 CS-ATCH4 UACH URO1 UKC Grand Ch. / WGSDCII Select Ch. / WGSDCA Select
Eclipse's Decadent Obsession
CTL1, CTL2, CTL3, CTL4, CL3, CL4, ChFH, ChJU, ChSN, ChJP, ChCL, TChFH, TChSN, TChJP, TChJU, TChCL, TChWC, TChST, SpChCL, SpChWC, SpChJP, SpChSN, SpChFH, SpChJU, TN-O, OJC, NAC, TG-N, NCC, JS-N, JS-O, JV-E, RS-N, GV-N, GV-O, ACT2, RN, RL1, NTD, OV, TT, TC, CGC, TDI, SPOT-ON, GSDCA 13 Club, OFA H/Card/MDR1/Dent, CHIC
"Nadia"
OFA Good Hips GS-80001G24F-VPI
OFA Cardiac GS-CA522/28F/P-VPI
OFA MDR1 Tested (mutant/normal) GS-MD1-11/21F-VPI-N/M
DNA Data Bank GS-DNA-218/S
OFA Dentition (full) GS-DE27/61F-VPI
Canine Health Information Center (CHIC) number 77210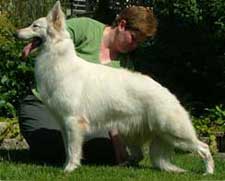 Nadia is a beautiful female white German Shepherd Dog. She is long-coated and has beautiful structure and movement. Nadia was born January 29, 2007 at Eclipse Kennels and we co-own her with them.

Nadia is from a line breeding on WGSDCA Select/UKC GSD/IABCA Int'l UCI Ch. Peannete's Pyramid of Echoes, CGC, OFA (Echo), the mother of our foundation dog Atlas. Nadia has her mother's beautiful sidegait and sweet personality and her own outgoing zest for life. Nadia's sire WGSDCA Grand Victor/2x Select Ch. / UKC GSD Ch. Eclipse's Big Money (Reno) was a littermate to our Vegas and the grandson of our Atlas.

Nadia had a rough start in life but came to us when she was about 7 months old. She had a succesful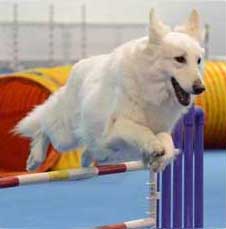 conformation career before being spayed in 2012. She earned her UKC Championship at 17 months and her UKC Grand Championship at just over three years with limited showing. She is champion pointed with majors and a Select in the WGSDCA and earned her WGSDCII Select Championship in 2012.

Performance events are where Nadia has really had success. She is outgoing and friendly and loves to play with us. She earned her Canine Good Citizen certificate and her Therapy Dogs International certification at just 18 months old and earned her UKC Rally Obedience 1 title in 2010. She has since added AKC and APDT rally titles as well.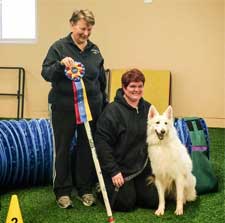 In January 2011 Nadia debuted in agility and earned her first three agility titles by having a perfect weekend with all qualifying scores in her first agility trial! She hasn't looked back since and is racking up the titles in agility in CPE, NADAC, ASCA and UKC. She earned her first agility championship - CPE Agility Champion - in 2014 and her second, third and fourth in 2015. She loves agility and is fast and responsive making her an ideal partner.

Nadia is not a breeding dog but she is a great representative of the versatile dog we strive for at Atlas German Shepherds.