NATCH ARCH TDCH DTCH-Ls UCD ROM IA GJJCH GNJCH USJCH NT NN AE AI AC UKC Best in Show / Reserve Best in Show Grand Ch. / IABCA Multi Ch.
Atlas' Blissful Feeling
RI, RE, RLI, RL3, RNX, CW-Ob1qv, CD, UADNJ IV, UADJJ III, UADMECH, LC-A, LD-N, DJ, JP-N, GS-N, RS-N, CTL1-HSF, CL1, CL2, CL3, O-TN-I, WV-I, IJC, ICC, IAC, HP-I, TG-I, BR-I, O-TG-N, OGC, O-EAC, O-ECC, S-EJC, O-TG-E, TN-E, WV-O, HP-O, BR-E, ACT2, ACTJ2, NAJ, SD-II, UL-II, TL-II, LI-I, TKP, ATD-M, AtoZ, SSH, K29, SDPro, CCF1, TC1, RATI, FDC, CGCA, SPOT-ON, OFA H/E/MDR1/Dent/Card
UKC Obedience High in Trial Winner
AKC Achiever Dog
Multiple UKC Total Dog Winner
"Bliss"
OFA Hips GS-100308G24F-VPI
OFA Elbows GS-EL38842F24-VPI
OFA Cardiac GS-CA1939/24F/P-VPI
OFA MDR1 Tested (normal/normal) GS-MD1-50/1F-NOPI-N/N
OFA Dentition (full) GS-DE473/24F-VPI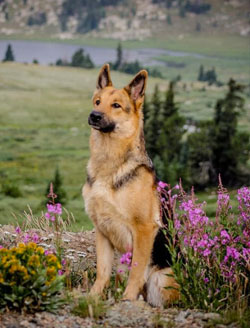 Bliss is a female from our Berlin x Bentley litter born August 5, 2016. She is a mix of American lines on her dam's side and West German and East German/DDR lines on her sire's side. She is the grandaughter of our foundation male Atlas. This is a great combination as Bliss has lovely conformation but can do all the things!

Bliss was shown in conformation and easily earned her UKC Grand Championship. She earned a UKC Best in Show as well as a Reserve Best in Show. She was also ranked in the UKC Top Ten in 2018.

In performance, Bliss had titles in rally, agility, trick dog, dock jumping, obedience, nosework, sport dog trials, and barnhunt. She even earned a UKC High in Trial for obedience.

Bliss has earned multiple UKC Total Dog awards for her success in conformation and performance.

Bliss is a great partner to work with and continues to exceed our expectations.