WGSDCA BIM Grand Victrix and 2x Select Ch. / WGSDCII Grand Victrix and 2x Select Ch. / UAGI URO1 High in Trial UKC Grand Ch. / ARBA Junior Ch. / IABCA Int'l Junghund Ch.
Eclipse's Wild Card of Atlas
TT, TC, CGC, RN, RL1, CL1, CL2-H, TN-N, ITD, OV, WVDA, WAX, GSDCA 13 Club, OFA H/E/Card/MDR1/DM/Dent, CHIC
"Vegas"
OFA Good Hips GS-76132G26F-PI
OFA Clean Elbows GS-EL20320F26-PI
OFA Cardiac GS-CA521/53F/P-PI
OFA MDR1 Tested (normal/normal) GS-MD15/26F-PI-N/N
OFA DM Tested (normal) GS-DM587/68F-PI
DNA Data Bank GS-DNA-216/S
OFA Dentition (full) GS-DE25/86F-VPI
Canine Health Information Center (CHIC) number 77209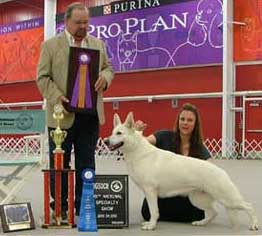 Vegas was a short coated female white German Shepherd Dog. She was born January 23, 2005, at Eclipse Kennels and we co-owned her with Eclipse Kennels.

Vegas had an incredible pedigree that combined excellent colored and white showlines. Her dam was the only known white-factored AKC and Canadian Champion "Soli" AKC Ch. / Can Ch. / UKC 2x BIMBS /2x RBIMBS GRCH / IABCA International Jugend Ch. Eclipse's Bittersweet Solitude, TC, MSDCH, WROM, OFA. Soli's sire was our Atlas who is one of the best known and most successful white German Shepherds. Vegas was also a great-granddaughter of one of the most notable German Shepherds of all time - BIS Am/Can Sel Ch. Kismet's Sight for Sore Eyes, TC, PT, ROM, OFA (Dallas) who won the herding group at Westminster in 2003.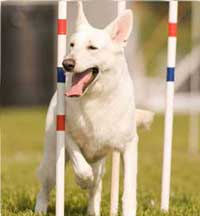 Vegas' conformation reflects her pedigree of outstanding show dogs. She had excellent angulation with outstanding sidegait. She moved cleanly with great reach and drive. She exceled in the breed ring and was a UKC Grand Champion, WGSDCA 2x Select Champion, WGSDCII 2x Select Champion, ARBA Junior Champion and IABCA Champion. She had multiple Best of Breeds over tough competition as well as group placements. Some of her biggest wins were under experts in the GSD breed. She earned her first win for her UKC Grand Championship under GSD breeder/judge Ann Gray. She also amazed us at the 2007 WGSDCA National by winning Best of Breed and Grand Victrix under GSD breeder/judge Lee Brown and Best in Maturity under GSD breeder/handler Julia Foster. At seven and a half years old she won Best of Breed and Grand Victrix at the WGSDCII National Speciality under GSD breeder/judge Butch Stiefferman.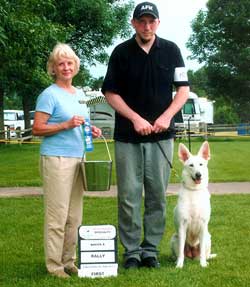 Vegas also exceled at performance events. She earned her first performance title at just 20 months old and had rally titles in AKC, UKC and APDT. She earned a High in Trial placement in UKC Rally in 2009, the first UKC Rally trial in MN. She also had multiple agility titles in CPE, NADAC and UKC. She was a very drivey dog who loved to work and was never short of energy. She learned very quickly and was always eager to please. She was also very bonded to her family and extremely loyal.

Vegas was the whole package - brains, beauty and health and we were very pleased to have her as a part of our breeding program.